The Creative License
Giving yourself permission to be the artist you truly are
by Danny Gregory
Hyperion, 2006

Teapot in the Radisson Hotel
by Danny Gregory


Danny with Ian Clayton on location in Dewsbury for Yorkshire Television's My Yorkshire

As soon as Jane Hickson, the producer of Yorkshire Television's My Yorkshire saw Danny Gregory's book Everyday Matters, she changed her filming schedule in order to fit in a flying visit Danny was making to spend a weekend with us. They filmed Danny and I drawing at Dewsbury market.

When I met Danny at far too early an hour at Manchester Airport I realised that, as he'd been travelling through the night, the first thing he'd probably appreciate before diving for the train would be a cup of tea. Before we'd finished he'd drawn the teapot and added a watercolour wash. He'd been drawing, rather than sleeping, on the plane from New York and, when he ran out of suitable subjects, he riffled through the in-flight magazine and found some photographs of the Dickensian-looking buildings huddled along the Royal Mile in Edinburgh. He used a mix of hatching, cross-hatching and scribbly circles to describe walls, pantiles and windows, giving a Hogarthian (Paul, not William) energy to the drawing.

The Radisson Hotel teapot (left) and the Royal Mile drawing appear in Danny's latest book, The Creative License.
Pep Talk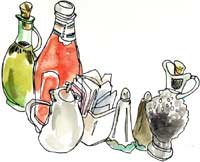 If Danny had put just his drawings in the book you'd pick up his message of 'giving yourself permission to be the artist you truly are' because his drawings have such a sense of fun, inquistiveness and improvisation about them but he writes in such a fresh, inspiring way too: I'd defy any artist, would-be or professional-in-a-bit-of-a-rut, to read his advice, stories and regular end of chapter pep talks without finding themselves smiling and picking up some of that creative energy.
Danny occasionally invites members of the Everyday Matters Yahoo discussion group to join him on location in New York but, if you can't get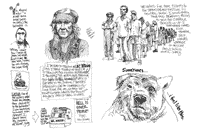 along to one of these sketch crawls, Creative License should have the same energising effect on you.
During his weekend with us, I'd occasionally say 'would you like to meet a couple of my artist friends . . .' or 'my mum lives just around the corner, would you like to call in for a coffee and meet her . . .'
And Danny would always reply, 'Hmmm, perhaps we could go and do some drawing this morning . . .'
When Barbara and I got up on the Saturday morning, Danny, who by rights should have been jet-lagged as he'd been in Jerusalem the weekend before and back to New York in between, had already made a start on a watercolour of our back garden, which appears in the new book. In fact there are half a dozen drawings in the book that he made that weekend - an Victorian tank engine in the railway museum, the Old Bank in Horbury, our bookshelf and my fold-up tube of watercolours.
While reading the book I've felt myself thinking, yes, this is the way I should be working, this is what I should be doing, then I turn the page and there'll be a page from one of my sketchbooks. Yay! - it's great to be a part of such an upbeat, energising, inspirational polemic on the individual creativity that we all have the ability to enjoy.

Links
Everyday Matters an ongoing discussion about creativity, drawing, journal making and seeing more clearly.
Richard Bell, richard@willowisland.co.uk