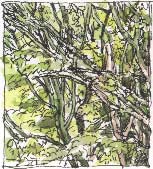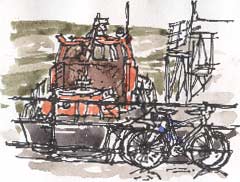 TWO DRAWINGS from windows in Stædtler pen (see yesterday's diary) and watercolour; sycamores on the banking by the cottage and a pilot boat in the harbour, drawn from the shelter of the Tourist Information Centre.
On a tour of the town's bookshops – new, discount, secondhand and charity – I come across a copy of my 1981 wildlife sketchbook Richard Bell's Britain. Whitby was where I first tried out the idea; I came for a few days in the winter of 1978–79 (in the December, if I remember rightly), booked in at the Youth Hostel up near the church and tried to find shelter to draw in the chancel of the ruined abbey, along the shore and, of course, in cafés. A pen and ink and watercolour of the interior of the Smugglers' Tearooms made it into the book.
The copy in the secondhand bookshop has a rather faded dustjacket and it's reasonably priced at £7.50 but the bookseller has sealed it in a plastic bag with a note that readers should take it to the desk before opening it. I guess that it's the sort of book that idle holidaymakers, like me, heading for the shops during gloomy weather, like to browse through.