A Caricature of Countryside
Richard Bell's Wild West Yorkshire nature diary, Tuesday, 28th October 2008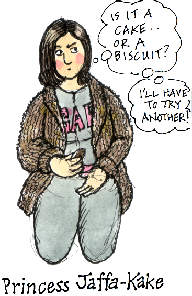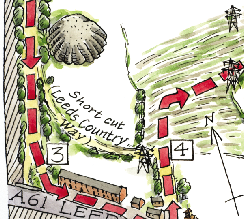 I'M SORRY that I've haven't had more time to draw from life or write natural history observations in this diary recently and, in the circumstances, my last page of cartoons might seem like an off-topic indulgence but studying how cartoonists go about their work has fed into the artwork I'm doing for my latest walks book.
The cartoon of Princess Jaffa-Kake (and, by the way, that's not her real name) is an attempt to put into practice John Byrne's advice to construct a cartoon figure from ovals and sausage-shapes.
"My eyebrows aren't like that!" she says, frowning.
"Yes they are - look: you're doing it now!"
I take lots of photographs as I walk the routes but in my maps I aim for a kind of caricature of the places I've passed through. I want to give people a very clear impression of the route without bogging them down with the kind of detail you get in a Google Earth satellite view or in the official Ordnance Survey map, which is obliged to carry a lot of information - such a parish boundaries - that you don't see on the ground.
Green Acres
On a walk on Friday afternoon, we crossed acres of grass (left) that I remember, in the 1960s, as the town rubbish dump. Restored when the M1 motorway cut across the valley, they'd now make a fine parkland setting for a stately home.
Thumbnail sketch in blue Parker fountain pen, made while standing in the queue in the bank.
Toon Town & Country
At least the countryside doesn't look over my shoulder and say "That doesn't look like me!" but similar principles of relaxed simplification apply.