Alverthorpe Meadows
Richard Bell's Wild West Yorkshire nature diary, Halloween, 31st October 2008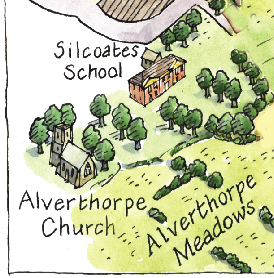 AS YOU LEAVE Wakefield Westgate on the Leeds train this relict patch of countryside soon appears, fringed by the suburbs of Alverthorpe and Wrenthorpe.
Alverthorpe Church was built after Wellington's victory at the Battle of Waterloo (1815) with a grant from a million pound fund that was given by the Government as a result of national thanksgiving and lobbying from a Committee.
On a visit to the churchyard in the autumn of 1995, I found kestrel pellets on the porch steps. In winter these can consist of lots of grey fur, with odd splinter of bone. In the summer I've found pellets here containing not just the skulls of small mammals but also the shiny ribbed wing cases of dung beetles.
Sacred
To the Memory of
DAVID KIRK
who was blown up into the
air by an explosion of
Fire Damp and afterward
fell into the Pit,
whilst Banking at Messrs
Barker and Child's Colliery
in this Village on the 13th
day of August 1851
Aged 55 years
How sudden and how awful was the stroke
By which the slender thread of life was broke
Reader reflect what happened unto me
For ought thou knowst may happen unto thee
Also of Elizabeth, Wife of the
above who departed this Life
on the 29th day of November
1864, Aged 70 Years
Forbear dear Friends to mourn and weep,
While sweetly in the dust I sleep;
This toilsom world I've left behind,
A glorious crown I hope to find.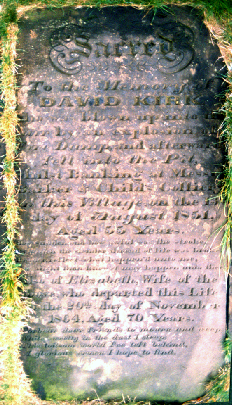 David Kirk of Alverthorpe
In 1995 I photographed this gravestone near the tower to the south of the church.
Artwork from another of the walks maps I'm currently busy with.