Ferry to Douglas
Richard Bell's nature diary Friday, 4th July 2008, page 2 of 2
AS WE WAITED for the ferry in the afternoon sun, I sketched this mayweed on the gravel by the edge of the car park. I'd normally expect to see scentless mayweed in this situation but so near the dock this might be sea mayweed, Tripleurospermum maritimum.
On the 3 hour crossing, I sketched the Lake District (above) as we sailed from Heysham, Lancashire, and the Isle of Man (below), to the west north-west, as we approached Douglas at 5.10 p.m.. A panoramic photograph, attached to the railings on the upper deck of the Ben-My-Chree enabled me to identify the hills. The island is like a smaller version of the Lake District set in the middle of the Irish Sea.
Appropriately, the first birds we saw as we approached the island were Manx shearwaters gliding low over the sea, 27 miles south east of Douglas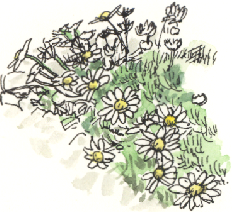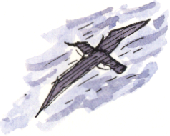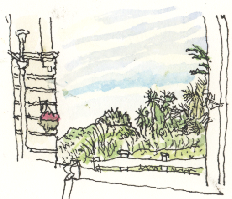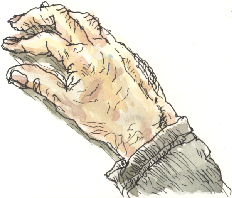 The Grand Island Hotel, Ramsey
This magnificent old hotel to the north of the town, perched overlooking the bay, reminds me of the sort of place you'd see in an Agatha Christie murder mystery. Its grandeur is somewhat faded and I understand there are plans to rebuild nearby, so, if you want to stay there, you might have just a season or two to try it.
In the foyer, opposite reception, there's a large, wonderfully clear and crisp, Victorian photograph of the masons and joiners who constructed the hotel.
Still trying to draw with my left hand in this drawing and the one of the view from the hotel (left).