---

Flight to Freedom




Wild West Yorkshire Nature Diary,
Friday 28th January 2000
---
Nature Diary
Rocks
History
Gallery
Links
Home Page
---


THERE'S A SOUND of tiny feet in the attic. How do those Starlings get in? I open up the loft hatch and the studio window, then leave the room undisturbed for a few minutes. But it takes a second attempt to persuade the bird to come out. It emerges after a few seconds, flies straight out of the window, down the garden and over the meadow.



Life in the Mines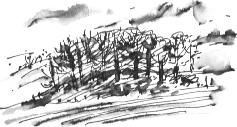 This week I'm researching coal mining in the area. I walk up to the local library, passing at least one of the old pit shafts. There were once sixteen of them in this part of the valley. Today all that's left is a mound covered with trees in quiet countryside.

Usually you can only guess what life was like for the people who worked such mines. But in 1841 mine workers, who included women and children, were interviewed in a survey which resulted in the 1842 mines act, which banned child labour in mines.

These are the words of Fanny Drake , aged 15, her job was to hurry, to push corves, small wagons full of coal and about as heavy as two fairly hefty men, from the face to the shaft;
'I work at Charlesworth's Wood Pit in Wakefield. I hurry by myself. I don't like it so well. It's cold and there is no fire in the pit. I'd rather be out of it altogether. I push with my head sometimes; it makes my head sore sometimes that I cannot bear it to be touched, it is soft too. I often have headaches and colds and coughs and sore throats.

'I have a singlet and a shift and a petticoat in the pit. The getter I work for wears a flannel waistcoat when he is poorly but when he is quite well he wears nothing at all. It is about 32 inches high where we hurry. Last winter we were in water up to our calves for half a year; my feet were skinned and just as if they were scalded; I was off work owing to the water and had a headache and bleeding at my nose.'
I'd like to know what happened to Fanny.
A boy of six who started work as a trapper (opening and closing doors) in the same mine worked there for over eighty years. Even when the mine owners gave him a pension he still insisted on coming to work in the engine house at the pit head.
One afternoon he remarked that he was feeling a bit off it and asked if he could go home early. They told him to take the next day off too. He died that evening.
Local mining was given a boost when the river was made navigable. My sketch shows one of the old coal staiths by the canal.


Richard Bell,
wildlife illustrator
E-mail; 'richard@daelnet.co.uk'
---
Next day
Previous day
Nature Diary
Wild West Yorkshire home page

---